According to the diverse forms of teaching and to enable approval of credit for student participants and teaching assignments to teachers, different durations of lectures are possible. The duration and time of individual lectures are arranged by the organizers in Bremen, based on the proposal of the teachers. During the planning there will be a consultation with the teachers.
The summer university will be planned on place in Bremen from 16 to 31 August 2023.
(We publish no public call for our meantime online program.)
For physical teaching in Bremen, we use a schedule with fixed teaching blocks.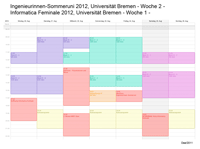 A course needs to be planned at least with 14 class hours with 45 minutes each (= 1 SWS), more hours are possible. Also, working hours of participants have to be calculated to offer possible credit points.
For the summer university 2023, some one-day workshops on Saturdays are possible.
We have collected some best practice examples for teaching processes and sequences.
A calculation is integrated in the submission form. You can also include your preferred dates there.